Transform your relationship with your life
This 8-Week Online Mindfulness Course is now available.
Do you want life to feel more manageable?
Do you want to feel less stressed?
Do you want to enjoy life more?
If you have answered yes to any of these questions, then this course is for you. Mindfulness can help you achieve these goals in just 8 weeks. Mindfulness can help you:
Reduce stress and anxiety
Be present in this moment, right here, right now
Stop ruminating about the past
Stop worrying and becoming anxious about the future
Gain greater self-awareness
Improve problem-solving
Improve attention and focus
Be more empathic and accepting of ourselves and towards others
Not be so attached to our mind and thinking
Enjoy life more 😊
You can try out some mindfulness before you buy the course by following the link here.
I am offering this unique online mindfulness course because it provides you with the flexibility to do it anytime and anywhere – all you need is a phone or laptop.
All materials for the course are included in the cost no matter which package you choose to buy. You have 3 options which include different levels of support- all one to one support is provided by me.
Or buy 8 Mindfulness Audio Exercises – £9
Includes:
Body and Breath
Body Scan
Empty Bowl meditation
Loving-kindness meditation
Mindful Movement
Mindfulness of Senses
Mountain Meditation
Sitting Meditation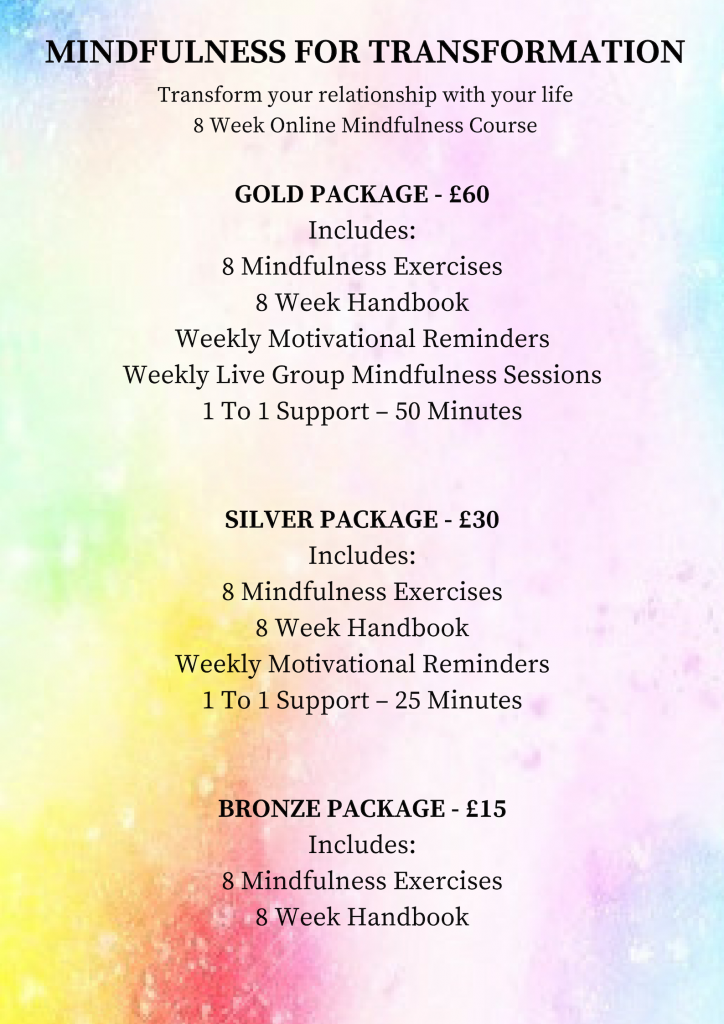 Contact me to register your interest or to buy your 8 mindfulness audio exercises.
IMPORTANT NOTICE
Please note that mindfulness may not suitable for everyone. If you are feeling suicidal or are having a psychotic episode, or have severe mental health issues, you are recommended to seek guidance from you GP or mental health professional before taking part in these exercises.